Passport Photographs & Visa Photos
Photovision Imaging offers professional and trusted passport photo services in the Brooklyn and tri-state area for the past 17 years.  We keep up to date with the most current policies and laws related to all passport photograph requirements.  No matter which country it is, our team can provide you with the correct size photo and required measurements.  If the photos are ever declined due to our mistake, we offer to retake your photo for free.  You can have 100% confidence on us because our local post office highly recommends Photovision Imaging as the official passport photo place to go.  Turnaround time is 5 minutes.
Passport Photos For All Countries
We have the exact measurements for all the passport photo requirements for each country, such as the width and height measurement of the head size, background color, and photo size.  When you come to our studio, please specify which country you want.  Besides U.S, the most popular countries include:  Canadian passport, Poland, Russian, China, UK, and Albanian.
United States Passport Photo Prices for adults
2 photos: $13.99
4 photos: $15.99
New Born Babies And Kids
Photovision Imaging specializes in taking passport photos for new born babies as young as few days old.  Just take your baby to our studio and we will teach you what to do.  Turnaround is 15 minutes.
Passport Digital Files
We have digital negatives which can be emailed or put into your jump drive.
Each Passport Digital File: $5.00
Types of Passport Photos
US Passport Photos
Green Card Lottery Photos
Visa Photos
Citizenship Photos
Immigration Photos
ID Photos
---
United States Passport Photo Requirements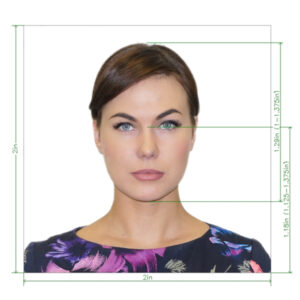 Photo must be in color.
2 x 2 (51 x 51 mm) inches in size.
Photo must be taken within the past 6 months.
Full face, front view with a plain white or off-white background.
Between 1 inch and 1 3/8 inches from the bottom of the chin to the top of the head.
Taken in normal street attire: Uniforms should not be worn in photographs except religious attire that is worn daily.
Do not wear a hat or headgear that obscures the hair or hair line.
No eye glasses allowed in passport photos.
Click link below for more information:
https://travel.state.gov/content/travel/en/passports/requirements/photos.html
---
China Passport Photo Requirements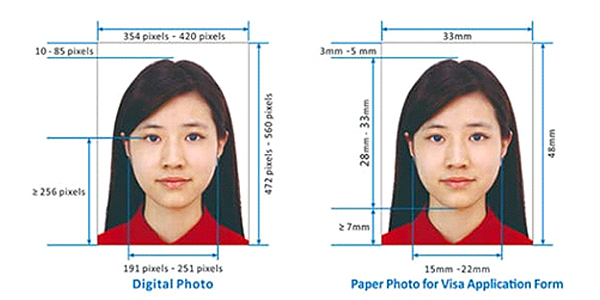 Photo must be in color.
Must be taken within six months.
Photo size is 33mm x 45mm. Head height is 28mm to 33mm and width is 15mm to 22mm.  See photo below for exact dimensions.
No smile, no head covering, and no eye glasses.
Background color is white with no shadows.
Head must in full front view.
The background should be pure white.
Click link below for more information:
http://ppt.mfa.gov.cn/appo/page/instruction.html
http://newyork.chineseconsulate.org/chn/zjfw/
---
Canadian Passport Photo Requirements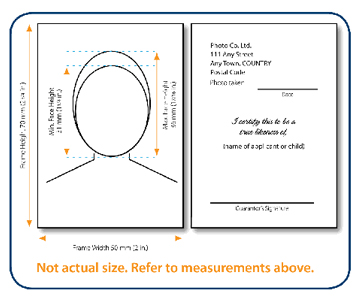 Photo must be 50 mm wide X 70 mm high (2 inches wide X 2 3/4 inches long)
Height of the face measures between 31 mm (1 1/4 inches) and 36 mm (1 7/16 inches) from chin to crown of head (natural top of head).
Face and shoulders to the camera: straight-on, centeredand squared
White or light-colored background with a clear difference between your face and the background. Photos must reflect & represent natural skin tones.
Photo taken within the last sixmonths
Photo must be original photos that are not altered in any wayor taken from an existing photo
Photos may be in color or in black and white
The back of one photo must include: the photographer's stamp or written information of the date the photo was taken; name and complete address of the photo studio

Click link for more details for Canadian Passport Photos:
https://www.canada.ca/en/immigration-refugees-citizenship/services/canadian-passports/photos.html
---
Russian Passport Photo Requirements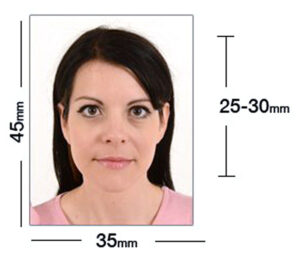 Photo must be taken within one month.
Photo size must be 35mm x 45mm.
6 identical copies are required.
Chin to crown distance is between 25-30mm, size of face not less than 20mm, look at photo for exact measurements.
Shoulders must be visible.
Neutral expression with no teeth showing.
No head gear, jewelry or eye glasses allowed.
Background must be white.
Click link below for more information:
https://newyork.mid.ru/web/newyork_en/russian-visa-photo-specifications
---